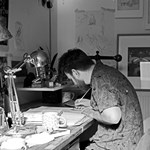 Nicholas Hughes
Category Wallpaper Designer/Printer, Printmaker, Illustrator
Region London
Nicholas Hughes is an artist working in illustration, design, print and wallpaper.
His work marries hand drawing and storytelling — two of the very earliest forms of communication that give us as humans an immediate sense of place in ourselves, with others and in the wider world.
Recent commissions include an enormous hand-printed mural, inky drawings, decorative ceramics and patterned wallpapers.
His studio is located in East London.