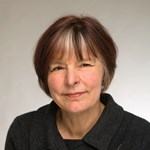 Mary Greensted
Category Curator
Region South West
Mary Greensted is a freelance curator, lecturer and writer who specialises in the Arts and Crafts Movement.
In her former role as Keeper of Museums at the Cheltenham Art Gallery & Museum, she was responsible for Cheltenham's award-winning Arts & Crafts Movement collection. In 2010, she received an MPhil by the University of Birmingham for her research into exchanges between Britain and Greece as part of the Arts & Crafts Movement.  She was also Chairman of the Gloucestershire Guild of Craftsmen from 2009-18 and is an active trustee at Court Barn Museum, Chipping Campden. 
Mary has published a number of books including, most recently (October 2019), Ernest Gimson: Arts & Crafts Designer and Architect written with Annette Carruthers and Barley Roscoe.