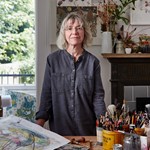 Angie Lewin
Category Printmaker
Region Scotland
Angie Lewin studied BA(Hons) Fine Art Printmaking at Central St. Martins College of Art and Design between 1983 and 1986, followed by a year's part-time postgraduate printmaking at Camberwell School of Arts and Crafts.
After working in London as an illustrator she studied horticulture, and a move to Norfolk prompted a return to printmaking.
Inspired by both the clifftops and saltmarshes of the north Norfolk coast and the Scottish Highlands, Angie depicts these contrasting environments and their native flora in wood engraving, linocut, silkscreen, lithograph and collage.